Fruggies Club sweatshirts hit CCHS campus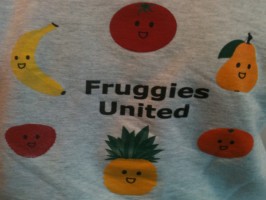 Fruggies United Club Sweatshirt
March 22, 2011 • Bri Onori, Co-News Editor
Filed under Features, Top Stories
As of recently, many students have been spotted around the Cathedral Catholic campus wearing the infamous Fruggies Club sweatshirts. As the sweatshirts don a unique design of fruits and vegetables, students here at CCHS are wondering what purpose the club serves and how can they get involved.
Senior Renee Schmee is president and founder of the Fruggies United club. She said "The purpose of the club is to encourage people to eat more fruits and vegetables, as there is an incredible lack of them in many people's diets." Promoting a healthy diet is just one of the many elements this club stands for. Renee's love for fruits and veggies goes beyond her own home garden when she spreads the word about nutrition and health at Cathedral.
Along with leader counterpart Robyn Stevens, Renee designed the sweatshirt with inspiration from her infatuation with smiling inanimate objects.  Like many club sweatshirts here at CCHS, the Fruggies original work is one with character and colorful pictures.
Sophomore Elisse Hall said, "When I first saw the Fruggies Club sweatshirts, I thought they were so origina,l and I wanted one!" Other club sweatshirts with similar distinct design include the Sturdy Wings Club, the Hip-Hop Dance Club, and the Surf Club.
Club meetings are important factors in keeping the Fruggies spirit alive. Renee said, "We try to make our meetings fun, which adds encouragement to eating fruits and vegetables."
Everyone is welcome to join the club, especially those who share a love for fruits and veggies or who want to incorporate more nutritious foods in their diets. As this is the Fruggies Club's first year at Cathedral, Renee said she hopes that she can get some enthusiastic youngins' to keep the legacy going.