Monsignor Callahan continues to work in CCHS community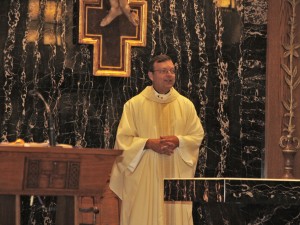 .
April 18, 2012 • Hannah Yoder, Features Editor
Filed under Features, Top Stories
Monsignor Steve Callahan, Vicar General of the San Diego Diocese, still finds the time to serve as Chairman of Cathedral Catholic's School Board.  He has held the position as Chairman since the beginning of the 2007 academic school year.  Father Steve has been a resident of San Diego since graduating college.
He said, "I came to San Diego in January 1980 after completing Bachelor's and Master's degrees in chemical engineering at the University of Notre Dame.  I worked at General Atomic until August 1982 when I entered the seminary.  I was ordained a priest in 1987 and served for 3 years as an associate pastor of Guardian Angels Parish in Santee."
It wasn't long before Father Steve began working directly for San Diego Bishop Robert Brom.
Father Steve said,  "In 1990 I was appointed an assistant to Bishop Brom and on staff at Saint Francis Seminary.  At the diocese I have served as Vice-Chancellor, Rector of Saint Francis Seminary, Chancellor, and Judicial Vicar.  Since 2003 I have served as Vicar General and also Pastor of Saint Brigid Parish.  For the past couple of years, I again am also serving as Judicial Vicar."
Vicars General work with the Bishop of their diocese on all aspects of administration and are involved with the issues that arise concerning priest personnel.   Father Steve is also the chairman of the diocesan committee overseeing parish construction projects.
Being Vicar General has aided Father Steve in his duties as Chairman of Cathedral Catholic's School Board over the past few years.
He said, "As Vicar General, I know all of the pastors and priests of the parishes whose parishioners are at Cathedral Catholic, so it helps me in engaging them to support the school.  In recent years my role has included engaging parishes in financial support of the school, and being available to school leadership for consultation on a variety of concerns."
The board meets at four regularly scheduled meetings throughout the year but can meet whenever it is necessary.
Father Steve said, "The board is available to the President of CCHS to consult on not just religious matters but also financial administration, development, academics, and service or outreach in the community."
As the board continues its duties as an advisory group, Father Steve is more than willing to finish out his second term as Chairman.
He said, "I enjoy the opportunity to be of service to the leadership of the school, to help engage others in the larger community, and to help the school stay focused on its mission and Catholic identity."