Sophomore Mikaela Greeven helps cancer patients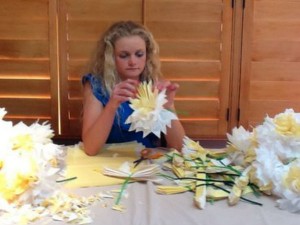 .
April 19, 2012 • Danielle Levy, Staff Writer
Filed under Features, Top Stories
Sophomore Mikaela Greeven has begun her journey on the road of service, making paper mache flowers for breast cancer patients in her community.
Mikaela began her service program when she noticed the loneliness that breast cancer patients were going through. She thought of the forgotten people, especially around Christmas time, that were forced to stay in the hospital because of their illness.
Mikaela said, "I noticed that they are alone a lot of the time, and feel forgotten and lonely. I noticed that these people were unable to receive real flowers from visitors like other patients could."
Then, Mikaela began to make paper mache flowers and attached prayers for these patients. Each flower takes around 3 to 4 minutes to make, and each prayer is a sincere message. The flowers are made of paper mache because cancer patients cannot receive actual flowers.
"These people are in constant pain but are still so merciful. I remember one woman lost her daughter to breast cancer, then got it herself. Her whole family was there supporting her," Mikaela said.
Mikaela further described how she often visits these patients in the hospital. Each visit is usually with people undergoing radiation therapy, a tiring and difficult medical treatment.
After various visits, someone took notice of Mikaela's work. Mrs. Linn Flannigan, a breast cancer survivor of 14 years herself, wrote about Mikaela's work and submitted it for an award.  The City County for San Diego and NBC 7's Rory Devine recognized Mikaela as most inspirational student because of Mrs. Flannigans submission. Mikaela was even interviewed in the CCHS learning center.
"I was taking a test and then they surprised me by coming in," she said.
They presented Mikaela the award during her test and interviewed her right on the spot. The award was a certificate of appreciation and students looked on as Mikaela gladly accepted.
As of now, Mikaela still stresses a lesson she once learned from World History teacher Mrs. Jan Davis.  She said, "We don't have to give, we have the privilege to."
Mikaela said that Mrs. Davis is one of her inspirations, and said that she has learned to live life fully and in the moment because of her teaching.
She continues to make flowers for cancer patients and perform new acts of service every week.