Senior Catherine Hedrick stands out on and off tennis court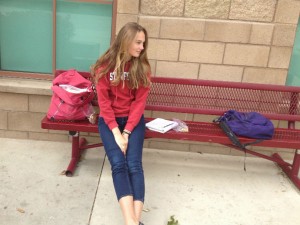 .
May 22, 2012 • Hannah Yoder, Features Editor
Filed under Features, Top Stories
Senior Catherine Hedrick has thrived at Cathedral Catholic both on and off campus.  She manages a cumulative grade point average of 4.2 while being an executive ambassador for the school.
She said, "I am one of the leaders of a group of ambassadors on campus.  We give our time to serve the CCHS and San Diego community in a variety of ways."
Along with volunteering as an ambassador, Catherine is part of the National Charity League (NCL).
She said, "Recently, we did a furniture move for kids in the foster system who are attending college.  We want to give them a place to live for when they come home on breaks."
Apart from her many service endeavors, Catherine works her magic on the tennis court.  She has been a part of Cathedral Catholic's tennis program for four years.
Her junior teammate Alex Hughes, said, "Catty played on JV Red, JV Gold, and Varsity.  She truly experienced it all.  She is my idol.  If you are ever feeling down, Catty will lift your spirits.  However, if she is your opponent, this will not be the case."
Catherine's positive attitude has become well-known across campus over the years.
Senior Robert Corbin said, "Cat is always positive."
Looking back on her childhood, Catherine said that she felt blessed to be born into such a loving family.  She loves being an older sister to Mark (Marky).
Catherine said, "He excels in the golf arena."
Being the helpful person that she is, Catherine has offered to be a mentor to future high school students.  She has much advice to give.
She said, "Come into high school and believe in yourself.  Be open to getting to know people, and keep making friends.  Don't stop!  You can never have enough friends, enough people to lean on.  If I had to describe high school in one word, I would say it all centers around experience.  I also recommend taking Asian Studies with Ms. (Jan)Davis and AP English with Mrs. Allari."
In the fall, Catherine will be attending the University of Virginia, which has an acceptance rate of approximately 18%.
Alex said, "I can say with a 100 percent  honesty that Catty has touched my life."