South Korean transfer students integrate into CCHS community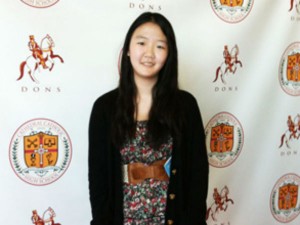 May 22, 2012 • Kara Stevick, Staff Writer
Filed under CC Students Around The World, Features, Top Stories
Moving to a new home is always difficult, even if it is only temporarily. However, moving all the way to another county is an entirely different story.
Senior David Lee and Freshman Soyoung Kim have both moved to the United States from South Korea.  Both David and Soyoung came to continue their schooling in America at the beginning of their freshman years.
David first found out he was going to be moving to the United States when his mother had asked him if he would want to come here and live with his aunt. His answer: a simple "Sure, why not?"
On the other hand, when Soyoung was approached by her parents and asked if she would like to move to the United States, where she would live with a host family, she took her time to decide. Eventually, after months of thinking about her final decision, she decided to go to America.
After making their decisions, both said that they were slightly nervous, but also very excited, to come here, and with good reason.
Both David and Soyoung had been to the United States before. David visited when he was five, and he lived in Los Angeles for a year; and Soyoung visited in the sixth grade and a second time last year in February.  Both said  they were looking forward to not only the sense of freedom that can be found in America, but also simpler amenities such as the hot weather or even the clubs, sports, and dances, as there are none held at Korean high schools.
David said that his experience has been positive so far.  He said, "The people are nice, the weather is warm, and there are beaches and sunny days."
Soyoung said that, even though she likes it here in America, there are still downsides, including everything from too many fatty foods or the fact that people drive cars everywhere-instead of walking to places more.  She also dislikes the language barrier and finds that she misses her family sometimes.
Fortunately, both David and Soyoung have several ways to remain in contact with their friends and family. On top of visiting their families over the summer, they remain in touch through the internet, texting, and Skype.
"It is hard for the first few months to nearly a year because of the fact that you are still adjusting to your surroundings and because of language barriers, but everything gets better over time as you learn to cope," said David.
David chose to go to Cathedral. He said, "I couldn't go to public school because I'm an international student and I came here by myself. My parents also wanted me to go to a Christian school, and the fact that my cousin attended Cathedral greatly affected my decision."
Soyoung also decided that Cathedral was right for her after her aunt recommended it, and she found that "it has a high level of college enrollment, and it is large, making it easy to form friendships."
David, after attending Cathedral for nearly a full four years, and Soyoung, after attending for nearly a year, both notice differences between education that Korean high schools and American high schools provide.  Not only do schools in America end sooner, provide lunch, offer Physical Education and more extracurricular activities, they are also much more lax than schools in Korea.
David and Soyoung's teachers said that both students are very driven and strive to make the best of their education.
Registrar Mr. Sean Green said, "Cathedral is a unique place in which the vast majority of students greatly value their education and, with their strong appreciation for education, students like David and Soyoung fit that model."
Matt teacher Ms. Katie Linn said "When they came here, there was a lot for them to take in, as things here are different from what they are used to, and they are not in their comfort zones. However, they provide Cathedral with a great sense of diversity and make it a more unique social and cultural setting".
She said, "It is wonderful how hardworking and motivated they are. They are doing very well here."