El Sol contributors express themselves artistically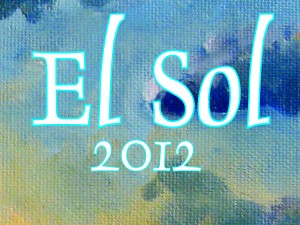 .
June 7, 2012 • Kara Stevick, Staff Writer
Filed under Features, Top Stories
The visual and performing arts are a major focus here at Cathedral Catholic High School. With the amazing drama program, CCTV, and even El Cid online, it is clear that the people of our community do not take the arts lightly. Knowing this, it's no   surprise that the school offers its students yet another way to express themselves artistically,  El Sol Magazine.
El Sol is the school's highly esteemed art and literary magazine that is published only once every school year. Headed by English and Literature teacher Mrs. Laurie Allari, submissions to feature one's work in the magazine are accepted from students from all over campus, allowing it to feature a very versatile selection of art and photography or even prose and poetry.
How can one enter their work for a chance to have it published? Freshman photographer Samantha Ramirez said,  "Every Spring, Mrs. Allari will send out a notice through your English teacher and/or art teacher; giving information about submissions. When you have a piece that you want to submit, either e-mail it or bring it to Mrs. Allari who will review it along with the rest of the submissions. It is required to include your name, your English teacher's name, and the title of your piece. She will then send out a notice in May as to whether or not your submission was accepted. At this point in time, anyone can then preorder it for $10".
Where can one preorder the magazine? Anyone interested in acquiring their own copy can go see Mrs. Allari and get a form from her; which can then be brought to the Business office after it is completed. Furthermore, if one does not preorder their copy, there are still some available for buying when they arrive.
Copies for this year's version are already readily available to be bought, and Samantha has made sure to acquire her own. However, this year Samantha is not only interested in seeing the other art featured in this version of the magazine; she is also interested in seeing her own piece. After taking photos for as long as she can remember, it comes as no surprise to know that her work was featured in this year's magazine.
Nevertheless, even for the most experienced, being able to produce something worth being submitted is no easy feat and, generally speaking, takes some prior experience. Samantha said, "As a photographer, it is often that one lucky shot that is the best; but it still takes several attempts before you can get it right. When it comes to submissions, some students just decide to submit work that they completed from their art or English classes. Personally, I just look through all of my best pictures and choose the four best ones to submit.
She has advice for others that may be interested in getting their work published.  "The best thing you can do is just continuing to work on and edit your art. Be persistent when it comes to submitting your work to El Sol because, if you have to right work ethic and the talent, you will eventually be published – which always proves to be a great thrill. I always find it really amazing to have other people look at my work and be like 'oh my gosh, that's amazing!' So just remember to always keep your mind open to inspiration; the most beautiful art can aspire from the most unsuspecting things."
"Not everyone, even artists and writers, knows about El Sol and all the opportunity it has to offer. It would be amazing to see more people submit and recognize it," Samantha said.