Math teacher Mrs. Madelyn Trainor retires after 40 years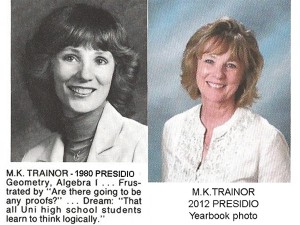 .
June 7, 2012 • Nicole Lobo, Staff Writer
Filed under Features, Top Stories
With graduation just past, many seniors are now rejoicing in their newfound freedom. However this year, Cathedral is also losing one of our most experienced and cultured teachers- Mrs. Madelyn Trainor.
After teaching for three years at OLP, Mrs. Trainor started teaching at Uni in 1971. Two years later, her husband- who flew F-4s in the Navy- got orders to Point Mugu, three hours north of San Diego. "We started our family there, and my daughter Elizabeth was born. Three years later, we came back to San Diego and had Jerry.  When he was two and a half years old, I came back to Uni and have been here ever since," said Mrs. Trainor.
Mrs. Trainor has taught every single high school level, most recently teaching Pre-Calculus Honors for Juniors and AP Calculus AB for seniors. Her remarkable career consisted of approximately forty total years of teaching in high school. In addition to this, she taught summer school and was a professor at Miramar College in the evenings.
"There have been so many great memories from my teaching years. A couple of years ago, one of my senior AP Calculus classes played one of their favorite songs and sang along while two of the most animated young men got up on a table with guitars. That incident brought tears to my eyes, not because they were poor singers, but because they took the time to say goodbye in a special way," said Mrs. Trainor.
"Every time I receive a special thank you card, and every time I receive an e-mail from alums where they share their gratitude, it makes me realize how special the teaching profession has been to me," she said.
Mrs. Trainor will miss many different parts of our school, but she believes that "the students are the best. I will miss the challenge of making the subject matter interesting to them, instilling in them the desire to want to learn, and expanding their knowledge.  There hasn't been a day that has gone by in the classroom that I haven't laughed or a student hasn't made me smile," she said.
While Mrs. Trainor will miss Cathedral, she says that she is looking forward to various different aspects of retirement. "I am excited for the time I will have to get-together with family and friends on a more regular basis, as well as getting off the "work" treadmill. Being able to read and relax more will be great, and of course, travel. My husband and I love to take road trips around the state and country, finding new golf courses and enjoying the history of each little 'old town'," she said.
To Cathedral students and recent graduates, she says, "Stay focused on the fundamentals, family, friends and faith.  If you do that, all the rest will fall into place."
"CCHS students are very special young men and women," said Mrs. Trainor. "We are so blessed here at Cathedral. The faculty and staff have always been there for me, they have made the working environment one of the best, and I will miss seeing them every day. Many will continue to be great life-long friends."
"I want to thank CCHS and the parents of our beautiful students for giving me the chance to participate in the growth of young adults. It has been a real gift," she said.