Seniors receive advice from Uni alumni on Career Day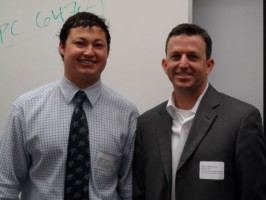 Mr. Chris Wright (Class of 1995) and Mr. Steve McGreevy (Class of 1987)
April 4, 2011 • Sarah Miller and Bri Onori, Opinions Editor, News Editor
Filed under News, Top Stories
Uni. alumni spoke about their chosen professions on our school's first Career Day, held last Monday, March 28th. Students chose to listen to presentations on careers ranging from medicine, law, marketing, health, and safety.
Mr. Tim Derenthal, head of Cathedral's alumni association, coordinated the event with the assistance of Ms. Nicole Santos, who graduated from Uni. in 1996.
All of the seniors were released from their second block classes and met in the gym for short speeches from two alumni.  Financial advisor Mr. Drew Slacum of the Uni class of 1992 currently works at a Morgan Stanley Smith Barney firm and was the first speaker to present to the seniors.  He said that a career aptitude test he took in high school determined that he should be park ranger.  However, while studying at Loyola Marymount University, he received an internship in the music industry and worked with a number of record labels before he decided to get his MBA.
He said he then made the career change because he did not enjoy working in the music industry – he wanted a job through which he could make money, help people, be challenged intellectually, and be his own boss.  He now works as a portfolio consultant.  He said his job is "…difficult but very rewarding."
The second alumni speaker was Doctor Laurence "Larry" Boggeln, who graduated as the valedictorian in the Uni. class of 1972. During high school, he worked as a candy striper at mercy hospital.  Throughout his presentation, he emphasized the importance of community service.
Boggeln then attended Loyola Marymount University and majored in biology at Saint Louis University Medical School.  After graduating from college, he enlisted in the Navy and traveled the world as a marine before opening his own family medicine practice in Temecula.  He said the most rewarding aspect of his military job was being able to help people in their greatest time of need.  He said that seniors should ask themselves what God's plan is for them and that they should not pick a career simply for money or prestige.
Following these two speeches, the seniors split up into presentations based upon their perspective career choices.  Mr. Steve McGreevy of the class of 1987 and Mr. Chris Wright of the class of 1995 gave students interested in becoming attorneys insight on practicing both criminal and civil law.
Mr. McGreevy attended Loyola Marymount University as an undergraduate student and then attended USD for law school.  After law school, he applied to become a Deputy Distric Attorney for Orange County.  He said the process of applying for the Deputy Attorney job depends on the job opportunities available, and it can be tought to get because it's a government job.  He recommended doing community work in order to build a professional resume, but especially to focus on grades earned in school.
Mr. McGreevy said that work in criminal law is grim, and visiting gruesome crime schenes for his job is less than pleasant.
"I can never change what happened, but I can always prevent it from happening to someone else," he said. He typically works 4-6 cases a year, from the time the crime is committed until the end of trial. During cases, Mr. McGreevy is required to work long hours, but when off-duty, he has plenty of time to spend with his wife and two sons.
"As a trial attorney, you are part writer, part actor, and part director. You are selling facts, and in order to convince a jury that you're right, you have to believe in yourself," he said.
Mr. Wright attended USC as an undergraduate student and Loyola University for law school.  He now practices civil law with a private law firm.  Unlike Mr. McGreevy, he rarely goes to trial because cases are usually settled outside of court through litigation because of the cost for the parties involved.
He was a business major at USC, and he did not consider going to law school until his senior year of college. At the time, Mr. Wright had no intent of becoming an attorney and only wanted to go to graduate school to enhance his writing abilities and critical thinking skills. Being in private practice allows him to have a more flexible schedule than Mr. McGreevy, but he is still expected to put in about 1800-2400 hours of solid work a year, for a 40-50 hour work week.
"Being an lawyer gives you the opportunity to help people – everyone needs legal advice at some point in their lives, and you have the ability to help them out of a jam," said Mr. Wright.
Nicole Santos of the class of 1996, who helped organize Career Day, said, "Being a senior in high school, you have a lot of uncertainty about the future.  Hopefully some students can relate to Career Day speeches."
Focusing on other people is Nicole Romeos' daily job. After graduating from Uni. in the class of 1996, Nicole attended Pepperdine University and received a degree in sports medicine. She then continued her studies in Arizona where she attained her Physicians Assistant degree and branched off into cardiology. Nicole said, "I love my job. To go into the career field of medicine, you have to love people and love taking care of them."
After sharing her job description with various seniors, many were inspired to possibly take on a career in the medical field.
Senior Natile Orosco said, "I had the chance to hear two talks, one on medicine and one on education. They both gave me good insight on what the jobs of a doctor and school teacher are like, and I could tell the Uni alumni were reliable people to discuss our futures with."
As Career Day concluded and the students dispersed, they were left with two final pieces of advice. Business entrepreneur Larry, class of 1972, told seniors, "Focus of what you can do for other people and not just yourself; it is then when you will see the most success."
Finally, Mr. McGreevy said, "Be flexible. It's a long road…Of course it's important to listen to others, but in the end, it's your decision."