Drama students perform flash mob at lunch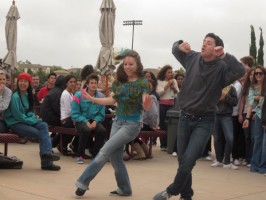 .
April 19, 2011 • Marissa Zebold, Co-News Editor
Filed under News
"I was just eating lunch at the tables when I recognized the music from the musical.  When I looked over my shoulder, I saw that members of the cast were congregating and organizing themselves into their dance formation," said senior Drew Milsom, describing what she saw when Cathedral Catholic drama students displayed a sporadic performance.
A "flash mob" from the school musical Hairspray occured during lunch on Thursday April 8th. Students broke out into the "Nicest Kids in Town" dance routine from the recent play, followed by a performance of "You Can't Stop the Beat."
The music was played by the Associated Student Body (ASB), who hooked up drama teacher Ms. Katie Wilson's laptop to the speakers.
All the drama students involved in the dance routines, with the exception of a few who were sick, congregated at the middle area of the lunch tables for their performance. Their dance was taken directly from the play, but it had to be modified because of space issues.
Ms. Wilson said, "I think the innovation and creativity of the students bring up awesome events that we, in our neck of the woods, get really excited about."
The students involved in the dances developed their plan through Facebook groups, mass texts, and by word of mouth. The idea had to approved by activities director Ms. Elizabeth Tysor, who then helped coordinate with ASB.
Ms. Wilson, who only knew about the performance one day ahead of time, said, "I'm always so encouraged when I see how many people are brought joy by student performances and want to join drama after seeing them."
The day of the performance happened to be "Retro Day" during spirit week, so students were already dressed up in past generations' clothes.
Ms. Wilson said, "Originally, the students wanted to wear their hairspray costumes, but dresses were allowed during spirit week."
Last year, there was a flash mob for last spring's musical, The Wedding Singer. Contrary to the more recent flash mob that was performed after the play had run its course, last year's flash mob was done before the play. Since Hairspray sold out so quickly, there was no need to advertise the play.
Maria Thomson, who had the main role in the play as character Tracy Turnblad, said, "We wanted to go out with a bang. The cast worked really hard on the play, and the dancing at lunch was kind of like our last hurrah.  Especially for seniors, it was a good farwell to drama."
Ms. Wilson laughed, "Maybe Glee Club will do something next, I don't know. Just be on the lookout during lunch."