Two drama students in semi-finals at Globe Theater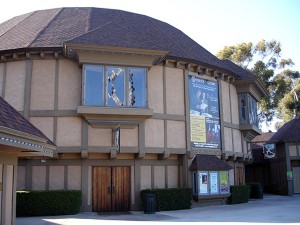 May 18, 2011 • Megan Badilla, Staff Writer
Filed under News
Many Cathedral students saw senior Michael Mahady perform as Robbie Hart in The Wedding Singer and Link Larkin in Hairspray and freshman Mary Grace Summer perform as Olive in The Spelling Bee and Penny in Hairspray. Now, these two young performers are semi-finalists in the Globe Theater Honors Competition at the Globe Theater.
"Out of all the entries representing the leading actors and actresses in musicals and dramas from all of the high schools in San Diego County, Michael and Mary Grace are in a pool of eighteen students in the semi-finals," said Ms. Katie Wilson, drama teacher at CCHS.
This is quite an honor for the young actor and actress because they are now considered two of the top eighteen best young performers in San Diego High School Theater.
"The program is usually dominated by performing art schools, so this is quite an accomplishment," said Ms. Wilson.
Junior Brianna Heller and seniors Maria Thompson and Kimber Holland also competed in the Old Globe Honors Completion. Ms. Wilson said they, "performed beautifully in the quarter-finals."
"The Globe Honors Program recognizes and rewards excellence in High School Theater in San Diego County," said Ms. Wilson. The winners of the competition will receive scholarships to acting classes at New York University. They will also be eligible to participate in the National High School Musical Theater Awards in New York City in June.
Michael and Mary Grace are going on to compete in the semi-finals and hopefully the finals. Students who wish to see the semi-final event may purchase tickets through the Old Globe Theater website, http://theoldglobe.org/. They can also email Ms. Wilson if with any questions.