Senior Michael Mahady wins Globe Honors Competition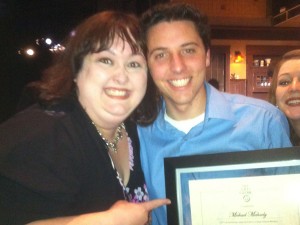 May 19, 2011 • Megan Badilla and Flora Cabello, Staff Writers
Filed under News, Top Stories
"So one ridiculously proud teacher is happy to report a Dons win at The Globe Honors Competition," said Cathedral Catholic Drama teacher Ms. Katie Wilson.
Senior Michael Mahady was the winner for leading male in the high school category of the Globe Honors Competition. After performing in his high school shows and three rounds of the competition against other top high school performers, he was chosen as the best of the best in San Diego. Now Michael moves onto the finals, The National High School Musical Theater Competition, to represent San Diego in New York in June.
CCHS ended up on top against the top performing art schools. "Michael's win is a huge accomplishment, as 7 out of 20 semi-finalists were from performing art schools. For 2 of our students to be included in this elite group is incredible," said Ms. Wilson.
Freshman Mary Grace Summer was a semi-finalist as well.  She made it to the final four of her category. "The Glee Club brought down the house with their rendition of 'Let The Sun Shine In' from Hair," said Ms. Wilson.
An ecstatic Ms. Wilson said, "Cathedral Catholic was the talk of the town, and I was beside myself."