NHS collects for veterans' Comfort & Care Drive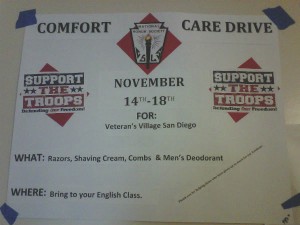 .
November 14, 2011 • Sean Yeatts, Staff Writer
Filed under News, Top Stories
Cathedral Catholic's National Honor Society (NHS) has begun collecting for the Veteran's Village San Diego's Comfort & Care Drive to support U.S. service members. The drive is an initiative to help support veterans and offer supplies needed for those who have sacrificed for the freedom of Americans.
The Comfort & Care Drive will be active from November 14th through 18th. The following items will be collected in bins located in all English classes: razors, shaving cream, combs, and men's deodorant.
Ms. Kristy Bormann, English 3 teacher and NHS moderator said, "Non-CCHS students and community members are welcome to donate, and their contributions are always appreciated."
"Veteran's Village is a great organization because it's one of the few veterans' organizations in San Diego that doubles as a winter shelter," said Ms. Bormann.  "So many of us are so thankful for the sacrifices our servicemen and women make but are unsure of what we can do to give back. This drive attempts to do just that."
Through the Veteran's Village Drive, students can give back to American veterans that may be suffering from the aftereffects of combat, including post-traumatic stress disorder (PTSD), addiction, and the stress of finding jobs.
"More than ever, people want to know what they can do to help service members and their families," said Ms. Bormann.  "Help comes in many different forms, and small acts of kindness can still have a huge impact."
With a finishing thought for students to think about when participating in the Veteran's Village Comfort & Care Drive, Ms. Bormann reminds Cathedral students, "This drive gives each of us the opportunity to make a difference."
Questions may be directed towards Ms. Bormann at kbormann@cathedralcatholic.org or NHS secretary Lauren Sullivan at laurensullivan7@gmail.com