Mr. Rickling to attend annual Fr. Joe Thanksgiving Run/Walk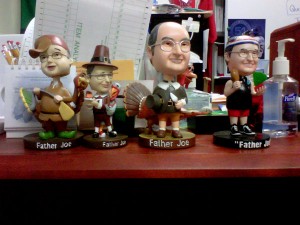 Photo Credit: Andrianna Yeatts
November 15, 2011 • Sean Yeatts, Staff Writer
Filed under News, Top Stories
Father Joe's annual Thanksgiving Day 5k Run/Walk is back for its 6th year in action. The event is a fundraiser to help Father Joe's Village in feeding the homeless. The kick-off of this year's Walk is Thursday, November 24, at 8:00 a.m. in Balboa Park.
As the Walk date approaches, Mr. Tom Rickling, AP Economics and Statistics teacher, prepares for his fourth year of fundraising.
"It's a great way to help the homeless here in San Diego," he said. "It's just a fun way to give back."
The first three finishers are awarded medals, and every participant receives a free, long-sleeve event t-shirt. Father Joe bobbleheads are presented to those who contribute a $100 donation.
Regarding the personal collection of Father Joe's bobbleheads he displays on his desk, Mr. Rickling said, "Kids always ask me about them, and it's a great way to tell them about the run."
The Thanksgiving day event is a run/walk, so everybody is welcome to participate whether they are up for a running challenge or simply want to walk for a good cause. In an additional attempt to raise money, Father Joe's Village offers pies to order by November 18th. They can be picked up at the Run on the 24th.
"It's a great way to burn off calories before you stuff your face with pie," said Mr. Rickling.
Not only does Father Joe's conduct the run and sell pies, the organization will also offer entertainment from the Bill Magee Blues Band at the Organ Pavilion during the Run. Participants may bring pets, and they will be offered complimentary bandanas and water during the event.
Students who are interested can register at www.Thanksgivingrun.org. Cathedral Catholic has a team called "CCHS Dons," and registry under this team allows students to see who the other Cathedral participants are.