Students travel to UCSD for Engineering Day (SLIDESHOW)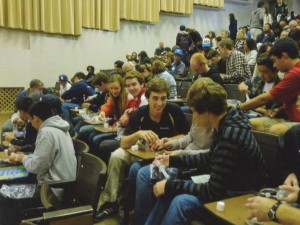 Photo Credit: Mrs. Trainor
November 29, 2011 • Andrianna Yeatts, Editor-in-Chief
Filed under News, Top Stories
On Saturday, November 19, a group of Cathedral Catholic students traveled to the University of California San Diego (UCSD) campus to participate in Engineering Explorations.
According to U.S. News & World Report 2009, UCSD's Jacobs School of Engineering is rated 7th in the nation among public university engineering schools.
AP Calculus AB and Pre-calculus Honors teacher Mrs. Madelyn Trainor and AP Calculus BC and Pre-calculus teacher Mrs. Debbie Bricker accompanied the students.
"I decided to go because Mrs. Bricker and [Physics teacher] Ms. Clave brought up the UCSD Science and Engineering Day in their classes and I though…hey, why not?" said senior Clayton Jaksha, who plans on studying electrical engineering in the future.  "At best, I have a good time.  At worst, at least there's a free lunch."
The day started with a demonstration of Boyle's Law, where participants placed marshmallows into airtight chambers and then evacuated the air from the chamber, Clayton said.  Students also toured various engineering facilities at UCSD.  Finally, they participated in an egg drop competition.
Mrs. Bricker said, "Would I send them again?  Yes.  Definitely.  They had a great time."  Mrs. Trainor said it was an "excellent day."
Clayton especially recalls participating in the egg drop with fellow senior Ashley Howard.  "How do I put this?" he said.  "We thought we would do better than we did.  Our ingenious 'burrito' style design didn't exactly work as well as we had hoped."
Still, Clayton said he recommends that future students attend Engineering Explorations.  He said, "I thought it was a great time.  Bring some friends, soak up the engineering, and enjoy the campus.  UCSD is a magical place."