ASB anticipates excitement at Chinese New Year formal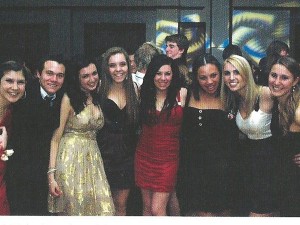 January 24, 2012 • Gabrielle Eyl, Staff Writer
Filed under News, Top Stories
Students at Cathedral are starting to prepare for the annual Winter Formal, set for Saturday, February 11. The Associated Student Body (ASB) has revealed the theme of this year's dance: Chinese New Year. The food, drinks, and interior decorations are all going to comply with this premise. ASB has booked the Rancho Bernardo Inn as the location and students of all four grades are welcome. Off-campus dates are an option, but seniors get the priority pick.
This year, dress code is crucial.  ASB adviser Ms. Elizabeth Tysor said, "This dress code will be strictly enforced."
For the gentlemen of the school, the requirement is dress shoes, a suit (meaning dress pants, a buttoned shirt that needs to stay tucked in, and a jacket). And for the ladies, the requirement is dress shoes and a dress.
Girls' outfits may not show any mid-driff, their dresses cannot be shorter than approximately 5 inches from the middle of the knee, they can not be formed.
If a dress has a slit in it, said Ms. Tysor, it must be "modest, and adhere to the required length."
"We're definitely looking forward to seeing some gowns!"  The dress attire should be more formal than Homecoming and just as formal as Prom.
ASB has been planning for this event since February 2011. ASB Commissioner of Public Relations, senior Claire Sommer, said, "ASB has been planning this for a while and we're really excited for it to take place! We hope everyone really enjoys themselves!"
Chinese New Year traditionally has a different "animal of the year." This year's animal is the dragon, so, as Ms. Tysor said, "Students should be "looking forward to a formal filled with very auspicious things! "
"We're always very proud of the students at Cathedral," said Ms. Tysor, "so remember to make very good decisions on the night of the dance."