Juniors encouraged to attend Rotary Youth Leadership Award camp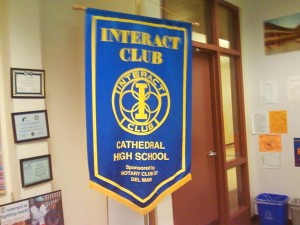 January 30, 2012 • Ashley Love, Staff Writer
Filed under News
From raising Polio funds and awareness with the Del Mar Rotary to sponsoring Nativity Prep Academy, Cathedral's Interact Club has taken a stand as a prominent charity organization in the past several years.  This year, from April 20th through April 22nd, CCHS juniors will have the opportunity to experience the Interact spirit by attending Rotary Youth Leadership Award (RYLA), a weekend-long leadership camp.
locally by subdivisions of Rotary International and held in the scenic location of Idyllwild Pines Californi,  RYLA is an outdoor camp that aims to provide high school juniors with the communication skills, self-confidence, and problem-solving abilities to become effective leaders in their communities. Connected with RYLA through the Del Mar Rotary Foundation, last year, several members of Cathedral's Interact Club were able to encounter what RYLA has to offer.
"It's a really amazing experience, not just a boring leadership camp. What you encounter at RYLA will empower you. I know it really changed my life," said senior Interact Club member Sarah Hull.
Jam-packed with bonfires, motivational speakers, outdoor challenges, team-bonding activities and even a dance, RYLA places campers in a situation where they are encouraged to discover themselves and forge relationships with fellow campers from the San Diego area.
"What I loved most about RYLA was how much I learned about myself in such a short period of time," said Sarah.  "The stories we heard from the speakers connected with me in an unbelievable way, and really shaped me as a person."
Although popular among Interact leaders, RYLA is not exclusive to members of the club. Any junior interested in attending Camp RYLA should stop by Mrs. Milligan's classroom in Assisi-106 for more information and guidelines on filling out RYLA's online application. Interact club members will also be stopping by every U.S. History Class in the upcoming weeks to answer questions students may have about the camp.
Sarah said, "If there's one thing I want people to understand about Camp RYLA, it's that it's not just a camp. It's a life-changing experience that will change the way you see yourself and the world."