Dons 'Pray for Peace' to End Wars in Africa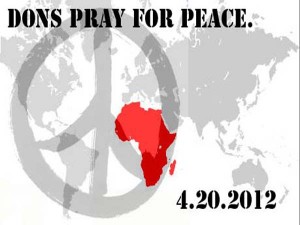 .
April 19, 2012 • Nicole Lobo, Staff Writer
Filed under News, Top Stories
On Friday April 20th, Cathedral will unite as a community to pray for an end to a cause that has terrorized thousands of people for decades - the ongoing wars in Africa.
Since 1986, the Lord's Resistance Army (LRA) under leader Joseph Kony has abducted as many as thirty thousand children to enlist into their brigade, forcing them to kill their family, friends, and neighbors in central Africa. The CCHS Invisible Children Club has planned a day to raise awareness about these disturbing events and intercede for a change through the power of prayer.
At 7:15 on Friday morning, Father Kelly will lead anyone willing to attend in a mass dedicated to generating peace in Africa. On the same day at lunch, the Invisible Children Club will have a prayer service out on the grassy commons during which students will have the opportunity to learn more about the cause.
Father Kelly, Mr. Foley, and Invisible Children Club representative Ella Decker will speak about the ongoing war, imperialism in Africa, the families and children affected, and why it is important to pray for peace. In addition, Mr. Foley will lead participants in worship and praise. Finally, helpers from Drama Tech will be there to set everyone up into a giant peace sign to demonstrate unity as a body to create change.
"The goal of this event is to spread awareness about Invisible Children, the LRA, and Joseph Kony, but we also hope to take our efforts a step further by bringing about real change in Africa through the power of prayer," said senior Sophie Graf, the president of the Invisible Children Club.
"This is a chance to use your power as a Catholic and as a human being to create change for a better world. Sadly, everyone can agree that Joseph Kony is a crazy, truly evil man. In Time magazine, a former child soldier who was abducted and forced to fight in Kony's army said that Kony told us, 'The Bible says if you are going to do good, do good all your life, and if you are going to do evil, do evil all your life. I chose evil, and that's what I will always do.' This is our chance to do good; to help stop this man and end the abductions, massacres, and countless other atrocities endured by the people of Africa for twenty six years," she said.
Those who are interested in participating in Cathedral's 'Pray for Peace' event, are encouraged to wear a red polo or t-shirt and visit the commons area to participate in the prayer service at 11:45 sharp on Friday.
Although not officially sponsored by the organization, the CCHS Invisible Children club created this event to show support of Invisible Children's Kony 2012 mission.
"Everyone knows that there has been some controversy and anger at the Invisible Children organization, but I think that it is not about the controversy, it is about the cause. If you never stand for something, you will fall for anything, so it is better to put your mind in a good place than in a bad one. Despite all the recent negative publicity about Invisible Children and its creator, this campaign is really not about that, it is about making a difference in the lives of the people who were affected by the war going on in Africa," said Ella Decker, who was a major figure in coordinating the CCHS event.
"It is important for students to get involved in the campaign for peace in Africa because this has been going on for so many years and honestly, nobody has done anything significant about it," she said.  "That in itself says a lot about us as individuals; that we are too wrapped up in our day to day lives to even care about something so terrible happening halfway around the world. This is our chance to finally take small steps and really make a difference together."