Banquet celebrates National Honors Society inductees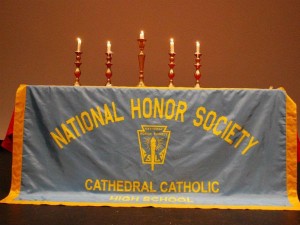 .
May 4, 2012 • Sean Yeatts, Staff Writer
Filed under News, Top Stories
Cathedral Catholic's 2012 National Honor Society (NHS) banquet and induction ceremony was held Thursday, May 3, 2012, in the Guadalupe Center.  Inductees and their parents were invited to attend a dinner and participate in the induction of the honors students.
NHS moderator Ms. Kristy Bormann opened the induction ceremony with a multimedia presentation.  A video was shown that featured images of NHS students participating in leadership roles throughout the school year, including tutoring in the library after school.
"Tonight we come together to induct our newest NHS members into this most prestigious organization," said Ms. Bormann.  "These incoming juniors and seniors follow in the footsteps of a long list of alumni who have earned impressive high school grade point averages and shared their many talents of leadership, service, and character within this community."
Co-Presidents, seniors Hannah Yoder and Andrianna Yeatts, followed Mrs. Bormann with a historical recount of NHS.  They emphasized the importance of assuming leadership roles in the school environment and maintaining pride in one's work.
Hannah said, "To qualify for NHS, juniors and seniors must meet and maintain a cumulative grade point average of 3.75 or higher.  Students who meet these scholastic requirements are then evaluated on the basis of leadership, service, and character.  Selected members pledge to maintain these standards and continue the pursuit of excellence."
Finally, Vice President, junior Nick Prunty, Treasurer junior Michael Rosenburg, and Historian senior Roarke Catubig led the "Lighting of the Candles."  At this time, the NHS leaders lit candles representing the different pillars of NHS – scholarship, service, leadership, character, and wisdom, from which the others stem.
The inductees were led in reciting the NHS pledge.  Students were then called up by name, and President Emeritus Mr. Jim Tschann congratulated them and handed them NHS certificates.