Students wrap up the year with prom at SD ZOO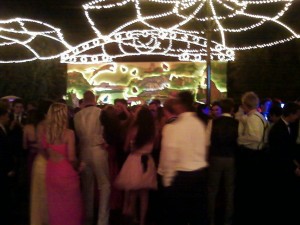 .
May 10, 2012 • Ashley Love, Staff Writer
Filed under News, Top Stories
From the moment the students walked through the San Diego Zoo gates, they were all smiles. On Saturday, May 5th, a nervous energy was in the air as the buildup from the previous weeks was finally released. It was prom night, and for most of the students attending, it was their last high school dance. Senior girls waltzed around in floor length ball gowns as the boys sported tuxedos, everyone looking their best for the special evening.
Giggles were overheard during the trek to the dance area as students tried to snag pictures with a peacock or jump on the lion statue for another photo-op.
"The first thing my date did once we walked into the Zoo was run over to the lion statue and hop on it,  waiting for someone to take his picture. I wasn't too far behind him, but he was really excited to jump on the thing," said senior Karlyn Murphy of her prom date senior Chris Clifford.
As the students continued into the designated party area, they were greeted with the sweet smell of a chocolate fountain and what seemed like endless trays of sweets to dip in the chocolate. In one corner, couples waited in line to get a picture taken to remember the magical night, and in another corner, caricatures, were being drawn for those ready for a good laugh. The DJ played songs that pleased the students and kept the dance floor filled all night.
When the sun set, the environment transformed as the canopy of trees became illuminated by the strands of lights woven through the branches. Juniors and seniors continued to snap pictures all night, finding friends and teachers to pose with.
"Everyone spends a lot of time getting ready for an event like this, you have to take as many pictures as you can to remember it!" said senior Katie Whittington. She later revealed she took over 1,000 pictures that night. She said most of them were "silly shots with the girls."
As the night started to come to an end, the DJ announced it was time to crown the senior prom king and queen. Everyone in attendance jumped out of their seats and huddled around the dance floor in anticipation.
Seniors Russell Reeder, Daniel Hower, and Jack Cruzon lined up.  Seniors Kelsea Lickert, Brittany Eremita, and Kaylee Moehling stood, each with huge smiles on their faces.
Gioia Kabel announced the king and queen, Russell and Kelsea, and they shared a dance to Bruno Mars' "It Will Rain." Soon after, many couples joined in and shared the slow dance opportunity with their dates to end the night off right.
As 10pm rolled around, the gates were opened and students stampeded out into the awaiting busses and limos.
Senior Lauren Bendixen said, "Overall I had a pretty awesome prom experience.  The music and food were awesome, and it doesn't get much better than the Zoo."