Cathedral acquires Bird Expeller noise machines (Video)
Video Credit: Seagulls swarm over the CCHS knoll.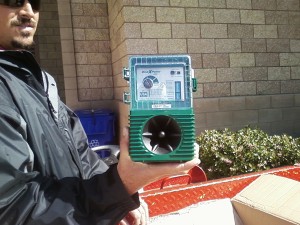 May 22, 2012 • Kara Stevick, Staff Writer
Filed under News, Top Stories, Video
Cathedral Catholic exemplifies several differences from other modern high schools. Not only does the school offer an extremely high level of academics and athletics while remaining high tech, it also provides students with an open atmosphere in which they can learn freely.
However, this cheerful atmosphere can quickly dissipate when flocks of seagulls fly overhead and begin to disturb students and faculty on campus by attempting to eat their food, even soiling both them and their belongings.
"The seagulls have been an issue since we arrived here," said Principal Mr. Michael Deely.  "Although they have not caused any structural damage to the school, they have most definitely proven to be a nuisance and are very annoying to students and faculty."
Mr. Deely said that the seagulls are not the only ones at fault, and that the greater nuisance is, in fact, not the seagulls but the students "who drop trash" and do not pick up after themselves. Even though the school has changed the trash cans in order to prevent seagulls from getting into them and further spreading garbage, if students do not pick up after themselves, the seagulls will continue coming back to campus.
"It is probably true," Freshman Juliana McCabe says of students not picking up after themselves. She said that although she herself always picks up her garbage, the students that do not can greatly benefit the school by changing their habits of not doing so.
Haley Price, another freshman, said, "They come where the food is, and the food is at our school and, although it is not entirely our fault that they are here, some students must have fed the birds at some point which encouraged them to come back. By not picking up our trash, that only encourages them further."
On top of picking up her trash, Juliana explains how she attempts to do anything she possibly can to avoid seagulls.  She said, "They are very scary, and I have a deadly fear of getting defecated on by one of them."
However, these birds cannot always be avoided, and when averting them becomes impossible, Haley explains that she simply scares them away.  She said it would be in the best interest of everyone if they were to be removed from campus.
Now, after several years of disturbances on campus, Mr. Deely said that the facilities committee has acquired special machines, known as the Bird Expeller Pro by Birdex, in March, which produce the sounds made by predatory birds that the seagulls do not associate themselves with. These sounds scare the birds away from campus.
After the efficiency of the machine had been tested thoroughly, it has been deemed to be fully ready to be used on campus to ward off these birds in a safe and non-harmful way.  There are to be a total of ten machines on campus, each of which affects a total area of one acre.
The final cost for the machines came out to be approximately $2,600.
"The machines are working great," said Mr. Deely.
Furthermore, Juliana and Haley both believe the idea of having the machine is "brilliant."
Haley said," It is great that the school has finally found something to encourage the birds to leave."
Mr. Deely said, "We are just hoping to keep them away."