Three CC sports change coaches for 2010-11 seasons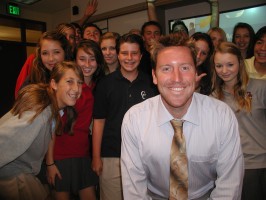 Photo Credit: Paige Hahn & Tamara Jacko
Coach Owen
September 18, 2010 • Sarah Miller, Opinions Editor
Filed under Sports
The new school year brings another round of sports seasons, and for three sports teams, it also brings new coaches to the Cross Country, Girl's Basketball, and Girl's Water Polo Teams.
Cross Country
After coaching water polo for seven years, four of them at CCHS, Varsity swim coach and World History and Speech teacher Mr. Jeff Owen has decided to coach Cross Country this fall. "I took an interest in getting involved in Cross Country because I am an active runner and I have always really wanted to be a part of the team," said Mr. Owen. During his junior and senior years of college, Mr. Owen was a member of the UCSD Triathlon Team, and he still trains and participates in triathlons.
For the past three years, Mr. Owen has been the head coach of the CCHS swim team. As the head coach, he has lead to the girls' team to 3 consecutive CIF championship titles, and the girls have been undefeated in their league. "Both sports have similar mindsets, and require the athletes to be dedicated individuals," said Mr. Owen. He went on to compare cross-country and swimming, noting that they both are endurance-based sports and even though both are team sports, the main competition is the clock.
During practice, the JV boys are divided into two groups. The A groups runs 5-6 miles and the B groups runs 4-5 miles. After running, the team does stretching, core work, and drills together. On Tuesdays and Thursdays, the team lifts weights in the Weight Room. He said that the main goal of the season is that everyone on the team improves throughout the season.
"The boys on the team are have really bonded as a team, and I admire how close they are. They are such hard workers, and I really respect them," said Mr. Owen.
Basketball
After five years of coaching Girls Basketball, four of them spent coaching varsity, Ms. Melissa Padgett decided to step back from her coaching position in order to get a Master's degree. "It is sort of strange to be a student, but it is a welcome change, and a new challenge," said Ms. Padgett.
Ms. Padgett has decided to continue her education online through Grand Canyon University. The actual campus is located in Phoenix, Arizona, but they offer online degrees. Ms. Padgett has decided to get a Master's degree in "Education in Technology and Curriculum and Instruction." She started taking classes on June 3rd, 2010, and expects to graduate by July 13th, 2011; she plans to double up on classes so she can finish her education in one year.
"I decided to get this degree because our school is moving more towards technology and online learning," said Ms. Padgett.
Since Ms. Padgett has stepped down from her coaching position, she will not involved in the team, with the exception as being their "biggest fan." She is unsure what will happen after she finishes her online education, but Mrs. Catherine Rivera will be replacing her as head coach. Mrs. Rivera will also by joined by returning coaches Ms. Nicole Geis and Mr. Joe Kilroy. The JV coach will be Mrs. Mruczkowski.
As coach, Ms. Padgett won San Diego Coach of the year in 2008, the same year the Varsity Girls were CIF champions. The Varsity Girls also won League for three straight seasons, but "my favorite part of coaching was just meeting all of the wonderful girls," said Ms. Padgett.
Water Polo
Boy's water polo coach and Algebra I and U.S. History teacher Mr. Brett Ormsby will be replacing former CCHS girl's water polo coach Chip O'Rourke. Even though the winter sports season does not begin until November, the girls have already started a "rigorous" 4-day a week practice routine this week in the evenings at CCHS.
Since becoming the Varsity Boy's Water Polo coach, Mr. Ormsby was able to develop the team in CIF-champions in two years. "I give a lot of credit to the boys because they were so hard-working and dedicated. They wanted it, and were willing to do the work. The girls this year are in a similar position that the boys were in two years ago, there's definitely talent," said Mr. Ormsby.
Mr. Ormsby also said that he will take a similar coaching approach with the girls, but he will be "less stern and demanding. He is looking forward to working with the CCHS Girls' Water Polo team because he originally was a girl's water polo coach before coming to Cathedral. In addition, Mr. Ormsby's wife will be an assistant coach.
"I think that she will be a good role model for the girls to look up to, and she will be able to understand the things they're going through," said Mr. Ormsby.
The main goal of the season is to work hard and be competitive no matter what team they play against or who is on the team. After the main season, there will be club water polo for the girls. Mr. Ormsby has already established a club water polo team for the CCHS team, and he plans to expand his program by adding a girl's team.