Cross Country steps up for CIF finals (Slideshow)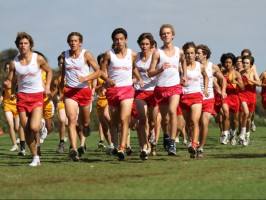 Photo Credit: Jarron Helbock's father
.
November 20, 2010 • Randy Wynne, Sports Writer
Filed under Sports
Dedication has taken control of the Dons Cross Country teams as they speed their way to one of the most successful seasons in school history.   The team's success can be attributed to the copious hours runners spend training.  Jack Wilson describes how the intense practice schedule has brought the team together.
"Consistency is key to success in running.  Starting two weeks after track season, we have spent a minimum of six days a week practicing for these huge races.  Training consists of about 50 miles a week.  Spending hours each day during summer together, and every day after school in fall, has made us a family.   We do everything together."
Led by seniors Jack Wilson and Tom Valente, the inspired runners take Western League Championships by storm.  Eight of the top 15 finishers, or medalists, were Dons.  And six of them qualified for All League Honors by finishing in the top 10.  Wilson tells of how the boys were able to dominate the Championships.
"We really stepped up with outstanding performances: each of our top seven runners set personal records on the course.  We finished a clear first place in Western League for both boys and girls for the first time in Cathedral history.  The guys had Tom Valente as our lead runner finishing second in league at 15:37 – the rest of the pack finished within 30 seconds of each other.   It's been the perfect execution of pack running that's given us success here, and it will be the strategy for CIF and State."
The Dons will look to execute their strategy today and tomorrow in the CIF Championship at Morley Field, the same course that they ran in the Western League Championships.  If they continue their domination in stride, they can take their well oiled team to the State Finals at Woodward Park.