Varsity swim teams geared up for CIF tournament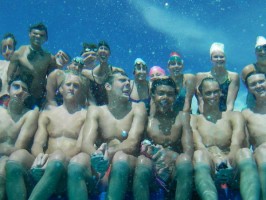 Boys and Girls Varsity Swim practice in the CCHS pool
April 14, 2011 • Andrianna Yeatts, Editor-in-Chief
Filed under Sports, Top Stories
As the spring sports season draws to a close, Cathedral Catholic's varsity swim teams look forward to the annual season-end CIF tournament.
Both the varsity girls and boys teams are coached by Mr. Jeff Owen, Cathedral Catholic Speech and World History teacher.  This is his fifth year as a CCHS swim coach and his fourth year as head coach.  Mr. Owen also coached swim for two years at University City High School.
He said, "I have been involved with swim my entire life.  I started swimming club when I was just a little guy, which led to junior lifeguards, water polo, and later, a job as a lifeguard for Laguna Beach and Del Mar."
Mr. Owen said, "My favorite part about coaching is seeing the kids get fired up after they get a best time."
This year's Cathedral's varsity girls swim team has defended its triple-year undefeated status in the Western League, even in the face of its toughest opponent, Mt. Carmel High School.
Mr. Owen attributes the girls' great success and undefeated standing to their persistence and hard work.  "The girls are incredibly dedicated to swimming," he said.  "Most of them train year-round with their club programs."
Two standout swimmers are sophomore Rosyln Kackman and senior Kim Boone.  Rosyln is a school record holder in the 100 fly event.  She is also part of CIF record holding and the All-American 400 free relay event.  Kim, the Cathedral varsity swim Team Captain who plans to attend college on a swim scholarship, is part of CIF record holding and the All-American free relay event.
According to Mr. Owen, the team's strongest events are all the stroke events and the distance free style event.  Their weakest is the 100 free style event.
So far this season, highlights for the girls include their Travel Meet to Sacred Heart Preparatory School in Northern California and the Sun Devil Invite at Mt. Carmel.
As the swim season nears its end, Mr. Owen said, "We hope to defend our 2008, 2009, and 2010 CIF titles."
This year's varsity boys swim team has a record of 0 and 5.  As they wrap-up the season, the boys are hoping for a top ten finish in CIF.
Mr. Owen said standout boys' players include junior Luke Nora, who is very strong in the 100 free style event and 100 back stroke event, junior Matt Magnaghi, who excels in the 100 free style event and the 100 fly event, and Sawyer Daly, who has "really established himself as a top contender in free style."  Junior Peyton Strait is a "very talented 200IM swimmer, and Austin Bushree is a "great sprint freestyler."
The next varsity boys and girls swim meet will be on April 15 at La Jolla High School.  The meet is set to begin at 2:00 PM.