Boys volleyball best in Western League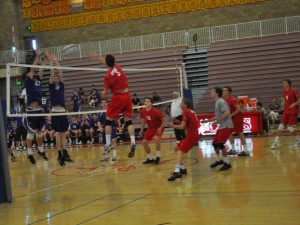 .
May 13, 2011 • Marissa Zebold, Co-News Editor
Filed under Sports, Top Stories
Cathedral Catholic's boys varsity volleyball team has gone undefeated this season with 25 wins and is working for a strong finish in CIF.  The boys finished first in the Division 3 league.
With a bye on Tuesday in their first round of Western League CIFs, the boys will play today, Friday, against Mona Vista high school at CCHS.
"Our biggest competition in the CIF games will be either Romana or La Jolla high school. They're both known as strong teams in their divisions, but I'm sure we can pull a win," said senior player Max Williamson.
The team is led by senior team captains Alex Yanke and Jonny Hoolko and is made up of 10 seniors, 1 sophomore, and 3 juniors.
Senior Stephen Schroder said, "Our team is special this year because all the starters are seniors, and we  have been playing with each other for four years now. We have good team chemistry as well as the strength to finish the season off strong."
Stephen, who will be attending California State University at Long Beach next year, is the only senior who will continue playing volleyball in college.
At one point during the season, ESPNRise.com had the boys CCHS varsity volleyball team ranked 30th in the country.
Recently, the coaches of all the Western League teams met to give out post-season awards. Senior Jonny Hoolko was named Western League Player of the Year, Alex Yanke was put on first team,  composed of the six best players voted by the coaches, and Max Williamson and Juan Martinez were put on second team.
Jonny said, "It was a huge honor, especially being the first volleyball team in Cathedral and Uni history to ever win league. As a team that was awesome; the individual honor was kind of just like icing on the cake."
The boys agreed that their match against La Costa Canyon was the most difficult. With the match finishing up in 5 games with a 3-2 victory, the boys were pushed up to the number one spot in the county.
"It was a good test of our skills, and to come out with a win proved that Cathedral's volleyball program is solid and is heading towards the top," said Max.
Three players from the junior varsity team were pulled up for CIF's. These players included sophomores Xavier Williams and Jason Duran and freshman Chris Franke.
The team this year is coached by Ted Torres, along with assistant coaches Paul Araiza, Joel Fihn, and Jonathan Anderson.  Torres has been coaching for 4 years at Cathedral, but this is his first year as varsity head coach.
The team practices every day for two hours. Practices consist of the occasional running of stairs and focus on different aspects of the game such as blocking, digging, or hitting.
Max said, "Now that we are later in the season and more advanced with our skills, our practices consists of more game-like scenarios rather than the repetition of certain drills."
Luckily, the boys team only suffered one injury this season. Junior Terry Elliot hurt his ankle during practice one day in March. Thinking it was a sprain, he returned to play two weeks later. After a few weeks of increasing pain, Terry decided to get an X-ray and found out that he had been playing for two weeks with a broken ankle. A recovery was made, and Terry will be able to finish up the season in CIF's.
Senior Kevin Mann said, "This year's season has been very successful. With the majority of the team being seniors, we came out at the start of the season looking to finish out our last year of volleyball strong.  Huge wins against La Costa Canyon and Carlsbad were the highlights of the season, ranking us number one in San Diego. These wins fueled us to keep pushing, leading us to finish out the year undefeated and clinching the League title, first in the history of the men's volleyball program."