Dons, Camarena beat El Cap, win Div III baseball title (video)
[Gallery not found]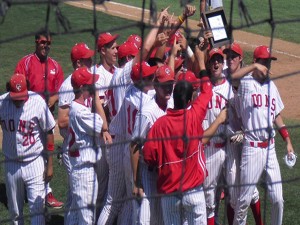 .
June 4, 2011 • Billy Slane, Sports Writer
Filed under Sports, Top Stories
The Cathedral Catholic Dons varsity baseball team ended a very successful spring season with a CIF title with a 3-2 win over El Capitan at SDSU Saturday.
The Dons started off hot, with starting pitcher, senior Daniel Camarena, putting away the Vaqueros in order in the first inning. The Dons' bats returned the favor by putting up a run in their first turn at the plate. The Dons then began to cool after the second, both on offense and defense.
In the third inning, the Dons let up two runs after two wild pitches and a couple of hits by the Vaqueros. But the Dons never gave up on their goal of a CIF title. They ended the third inning with a double play and began to regain their bats in the fourth; however, it wasn't until the fifth that the Dons would get the hit they needed.
With a man on first and second, senior Nico Garbella came up to the plate, it would be the last time he would get a hit as a Don. Nico came into this game with a .369 batting average and 28 runs batted in. He ripped his last hit to left center field, driving in two while putting himself at second base, giving the Dons a 3-2 lead, a lead that would give them a CIF title.
Although sophomore pitcher Stephen Gonsalves was warming up during the bottom of the sixth inning, senior Daniel Camarena, who got the start, finished the game he began. He put away the Vaqueros in order again, giving his teammates their CIF championship.
The Dons lined up on the third base line and were congratulated by Cathedral president Mr. James Tschann and athletic director Mr. David Smola before head coach Gary Remiker was handed the CIF plaque and handed it to his players so they could all feel their moment of glory in winning a CIF title.
The Dons ended the 2011 season with a 30-4 record overall and a 12-1 record in league play. The team ended with an overall batting average of .314 and a slugging percentage of .451 with a combined 284 hits. The team's pitchers ended with a combined ERA of 1.24 and 255 combined strikeouts.
The Dons had 10 seniors heading into the season, so a big portion of their team will not be here for the next season. But they hope that young players like sophomores Michael Martin and Stephen Gonsalves and juniors Jesse Kay and Evan Cassolato – will continue to show promise and live up to their potential in the next season.