Dons cross country team returns from Stanford meet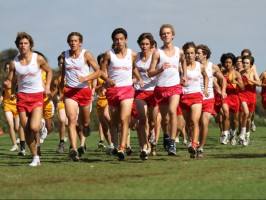 October 5, 2011 • Lia Generales, Staff Writer
Filed under Sports, Top Stories
The Dons Cross Country team has shown dedication through the start of the 2011 season.  With 110 members, the team has excelled in their meets.  Coach Dan Geiger, said "I am always pleased with their effort because I know they gave 100%."
The team has been working hard since school started, training non-stop to prepare.  They spend six days a week, two to two and a half hours each day training.  The varsity team even gets together off campus and runs trails on Saturdays to train when they do not have a scheduled race.
Since the season began, the team has only participated in weekend invitationals which involve the best teams from the western region.  In one of their recent meets, the girls had the second best overall time, and the boys placed sixth out of over one hundred schools.
The team received a request for an invitational meet at Stanford University over the past weekend.  Throughout the meet, the members of the team participated in various races.  Coach Geiger feels that the boys had an outstanding race, finishing fifth, but he feels that the girls did not have their best race as they finished eighth.
Coach Geiger said, "Because of their hard work and dedication, the team was well prepared physically, but because they were racing in the invitational race, they may have been a little nervous."
The coach and the team look forward to representing Cathedral's athletics in future meets.