Tennis players bond, prepare for CIF tournament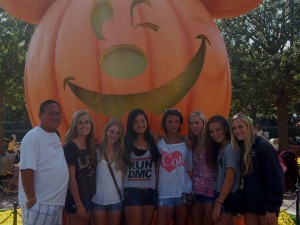 Photo Credit: Coach Ron Marquez
October 21, 2011 • Andrianna Yeatts, Editor-in-Chief
Filed under Sports, Top Stories
With a record of 13-2, the 2011 girls varsity tennis team is heading into the annual CIF tournament.   Led by senior team captains and Coach Ron Marquez, the team hopes to defend its CIF Team Title.
The girls of the tennis team bond with each other both during tennis activities and outside of school.  Of the players, Coach Ron Marquez said, "They are very supportive of each other at matches and practices.  We just had a team overnight stay and day at Disneyland.  In addition, the team likes to eat together on early dismissal days."
Coach Marquez contributes his team's success both to the support of team parents and to the upperclassman captains, seniors Lucy LaCosta, Ceci Mariscal, Catherine Hedrick, Hannah Yoder, and Monica Spacciapolli.
"The team is a nice mix of girls from each grade level," he said.  "We have good leadership from our upperclassman and our underclassmen contribute on and off the court."
Lacosta and Autumn "Tiara" Cabrera are the team's top single players, and the top doubles team is Lucrecia Mestre and Mariscal, Coach Marquez said.  The team has one starting freshman, Isabel Lee, and other freshmen include Delaney Phanco, Arielle Drapeau, and Mikayle Drapeau .
"But," he said, "our entire team plays in most matches and they all contribute to our wins.  Our returning players have played extremely well and the new players have performed well, too."
Coach Marquez said that the team's strength is its depth.  "Everyone has participated in matches this season and contributed to many of our wins, " he said.
As the tennis players look toward the upcoming CIF tournament and season wrap-up, they hope to defend their CIF Team Title and beat La Jolla High School to win the Western League.  After the team matches, there will be two weeks of individual player matches, and Coach Marquez hopes that many of his players do well.
He said, "This team has been a fun one to coach and it's been especially fun watching them improve with each week."