Varsity Lacrosse, stacked with standouts, begins season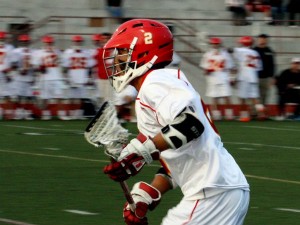 March 20, 2012 • Jaci Matter, Opinions Editor
Filed under Sports, Top Stories
The 2012 Cathedral Catholic Dons Varsity Lacrosse team is looking forward to a great season. After a (17-5) record last year, and a loss to Coronado in the CIF division II finals, the boys are gearing up for another title run this season.
With 5 Division I recruits: senior Jack Cruzan (Providence College), junior Spencer Schmitt (Syracuse University), junior Taylor Esoldi (Naval Academy), junior Thomas Crabtree (Army), junior Kennen Assasraf (Providence College), and one Division III recruit, senior Cole Bollman (Washington & Lee), the team is loaded with exceptional talent all over the field. With a strong group of upperclassmen led by captains senior Chris Clifford, senior Jack Cruzan, senior Kale Evans, and junior Taylor Esoldi, and a mature group of underclassmen, the Dons are looking to grow off of last season's loss and to get better everyday.
Sophomore Clayton Brown said that he is looking forward to the team's trip to Florida and, as he said, "growing as a team and a family."
With the Florida trip over spring break, the boys will play the nationally ranked and top in the state St. Andrews team, as well as a couple of local teams. Not only will the boy's lacrosse team be showcasing their talents across the country, but also against teams from Colorado, as well as the top teams in southern California.
Senior Connor Parnell said he is looking forward to playing Torrey Pines, because, he said, "They have always been one of biggest rivals in pretty much everything; plus, they beat us 11-10 last season, so were looking to get revenge."
The team plays this Saturday, March 24th in a Military Appreciation Game, and is looking for support from fellow Dons.