Boys varsity tennis players hope to win League, CIF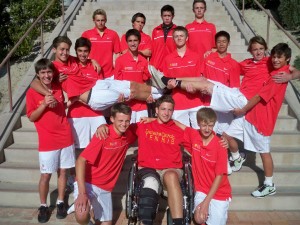 .
April 4, 2012 • Hannah Yoder, Features Editor
Filed under Sports, Top Stories
With a current record of 4 and 5, the Cathedral Catholic boys varsity tennis team has been working hard over the past several weeks.  The team is evenly split with nine returners and seven newcomers.  The boys finished 13 and 9 last season.
Coach Ron Marquez said, "Our goals for this season aren't very different from past years.  We hope to win Western League and CIF.  After being in the CIF finals four years running, our team motto is 'Win One More Match'."
The varsity squad has already competed in a few tournaments, including the La Jolla Country Day Invitational and the Eagles Doubles Tournament.
Coach Marquez said, "Our biggest competitors are probably going to be La Jolla, Saints, Coronado, Scripps, and Canyon Crest."
In order to prepare the boys for their big matches, Coach Marquez has been running a lot of drills and putting the boys in a lot of match situations at practices.
He said, "The biggest thing we need to improve upon is continuing to play aggressively and learning from every match."
Apart from working hard out on the courts, the team members still make time for bonding.  They go out to eat a lot, especially at Souplantation.
Coach Marquez said, "It is important to keep the core of our team as strong as it has been."