Boys volleyball transitions to 2012 season with high hopes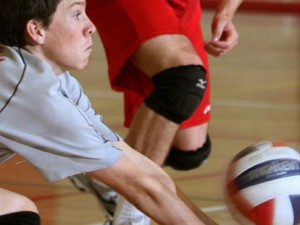 .
April 24, 2012 • Erin Murray, Staff Writer
Filed under Sports
The Cathedral Catholic boy's varsity volleyball team has had a solid start to the 2012 season with an overall record of 18 wins and 5 losses, and an undefeated status in league.  Their goal is to become league champions once again, as well as move on to winning the CIF championship title for the third year in a row.
The boys have consistently had a stellar reputation with regards to their previous seasons and talents.  They are certainly on the road to having another wonderful season, and the pressure is on.  The team is led by senior captains Nick Supple and Kyle Bass, along with a solid group of returning seniors and juniors.
"As a senior captain, I have big shoes to fill in considering the back-to-back CIF Championships I have under my belt," said Nick Supple.  "I think we are definitely on the right track for a repeat of CIF and have a good fight at state playoffs."
Also, the team is growing closer and learning to work together and rely on each other.
"Our teams chemistry is growing significantly as every practice goes by," said Supple.   "All in all, we get along very easily and we are looking forward to a successful season."
The transition from the 2011 to 2012 season has not been easy, due to the loss of 11 seniors, but the boys have been doing an excellent job of helping many of the new members.
"It's never easy to lose that many members from such a tight-knit team, however we are doing very well considering the circumstances and we're continuing to work hard," said captain Kyle Bass.
Aside from losing some members, the team has gained two new large additions to the team: 6'5 middle blocker Trevor Deddeh and 6'3 opposite hitter Brian Heinz.  This dynamic-duo is completely new to the sport, but have truly enjoyed the season so far and are looking forward to improvement and success.
"It is always fun to learn a new sport," said Trevor.  "The team is very supportive and I'm constantly learning new things!"
The team is coached by Mr. Ted Torres.  This is Ted's second year as varsity head coach and his fifth year working with the program.
The boys are looking forward to playing their next game against Mira Mesa on April 25th, at 4:45 at home.