Swim vs Track: 'the most important competition on campus'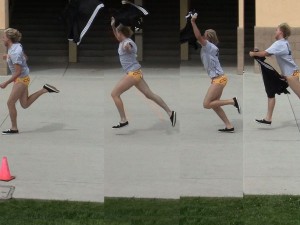 April 26, 2012 • Ricky Albanese, Staff Writer
Filed under Sports, Top Stories
The 3rd annual Track vs Swim Competition occurred Tuesday, April 24th.
What began as a friendly rivalry between two spring sports eventually manifested into what senior track-team thrower Anthony Alleglonie called "the most important competition on campus."
Each sport was represented by four teams, each comprised of three girls and three guys. All of the eight teams had one person competing at a time.
The competitor started with one lap around the track followed by the "walking zone" on the edge of the pool and then a 75 meter swim. Once out of the pool, the competitor tagged a waiting teammate who started the process over.
Track vs. Swim is meant to make the two sports appreciate their spring counterpart's hard work as well as to bring the CCHS community together.
Sophomore Christopher Gomez, who attended last year, said, " I wouldn't miss this for the world. I love getting the chance to watch my friends on track try to swim; they're so bad!"
Coach of the sprinting team Mr. Michael Wallace had challenged the swim team, saying, "Anyone can win at the sport they actually play, but to beat someone else in their own sport – well, that's what makes you the best of the best."
The prize for this year was "The Torch" made of running sticks (used to stretch runner's legs) as the torch handle and swimmer's hand paddles as the fire.
Unfortunately for Coach Wallace, the swim team managed to pull out the victory, leaving track to rethink its strategy for next year – a point driven home by varsity swimmer Cole Carter who said, "Anyone can run track. Everyone knows how to run, but swimming has technique and takes practice to get the right form. I still think, even after the competition, that swimming is much harder."