Nationally ranked Dons seek 2nd straight CIF title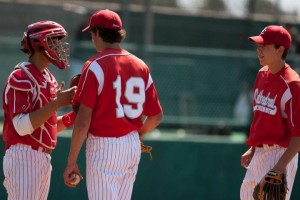 April 27, 2012 • Billy Slane, Sports Editor
Filed under Sports, Top Stories
According to Maxpreps.com's most recent rankings, the Cathedral Catholic Dons are ranked as the 19th best team in the nation. The Dons have been consistently ranked as one of the country's best teams for the whole season, and were also ranked as high as 20th by Perfect Game USA before the season began. The Dons' 19-3 overall record and undefeated 5-0 league record certainly backs up this national recognition.
The players know that this kind of national spotlight pins a target on their backs.
"We try not to look at the rankings," said senior second baseman Evan Cassolato, "but we know it doesn't really matter; any team can beat any team. We know that everyone is going to be shooting for us. We'll be seeing everyone's best pitcher and everyone's best lineup."
The team's success may be the result of the players' total trust in each other.
"Everyone wants each other to succeed," said Evan, "we play as a team and always stick together. We've had a lot of close games and walk-off wins, so we all believe in each other. If we are down in the 7th, we have no doubt in whoever is at the plate."
The obvious strength of the team for two years now is the team's depth on the mound. The Dons currently have four pitchers with more than 20 innings pitched who also have ERAs under 3. Junior Michael Martin currently has a team high 41 innings on the mound with a low 1.02 ERA.
Evan attributes the success at pitcher to the team's sheer talent at the position.  He said, "We are very consistent and deep. We also don't make many errors in the field, so our defense helps out a lot too."
The only weak point for the team seems to be the occasional struggles at the plate. The team currently has a .275 batting averag, but it seems to improve after every game.
"We're just focusing on good mentalites," said Evan.  "We just want to focus on putting runs on the board and executing as a team."