Varsity lacrosse players train to "get better everyday"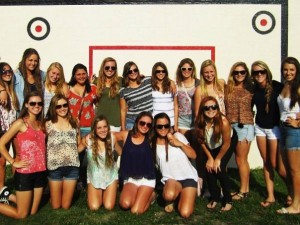 May 3, 2012 • Lia Generales, Staff Writer
Filed under Sports, Top Stories
"Getting better everyday" is the motto of Cathedral's girl's varsity lacrosse team.
Shannon Robinson, Varsity Girl's Lacrosse coach, said, "My expectations for this season are to continue to improve as a team and improve on the success that we achieved last season.  The team has done a great job so far."
The season didn't start out on a positive note.  Many players were injured, on top of the athletes having to adjust to numerous new additions to the team.
At practice, which occurs every weekday for two hours, the team focuses on the area that the girls need to improve on as a whole based on their last game.  They also focus on different drills depending on who their next opponent is.  Each opponent is different, so the coach works on the strategy that works best against each team.  Practice is mainly used as game preparation.
This season, the team has had the opportunity to participate in a variety of events.  Over spring break, the girls traveled to Florida.
Coach Robinson said, "The girls really played the best I have seen all season and came together and played as a team to overcome adversity."
One of their shining moments was playing in the Warrior Cup on Cathedral's campus.  Coach Robinson said this was one of their greatest moments because the girls were able to take part in something that gives back to people who have done so much for the United States.
Coach Robinson said, "One of the greatest moments would just be having the opportunity to get to see each of the girls grow as players and come together as a team."