Varsity badminton ends season right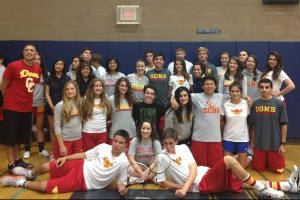 .
May 29, 2012 • Laverne Brikho, Staff Writer
Filed under Sports
The varsity badminton team finished off its season well and concluded with many fun events, each exciting for both the players and their families
Last Monday, the badminton team had its most thrilling event of the year – Family Badminton Night, held in the gym at 6:30 P.M.
Junior Alex Splinter said, "This was a fun time for all of us players because we got to show our parents what we really do when we play, and we even got a chance to actually play with them, which was very exciting."
All of the players brought their family and friends to this event to enjoy fun badminton matches and pizza.
The coaches agree that Family Badminton Night is a great way for parents to meet other parents with children who are interested in the same sport.
Many of the dads attending Family Badminton Night even got in the courts and played with the students.
The following Monday, the badminton banquet was held in Cathedral's green room, and everyone brought their families as well.
The team decided to have different types of food, instead of the usual Italian themed foods. Coach Alex Caceres talked to the school's chefs, and together they thought of an idea that everyone would be happy with. Coach Caceres and the chefs decided to introduce Asian-styled food.
Other than eating food, the players watched a slideshow of pictures and fun memories they've had with each other. Two juniors, Ranya Halabo and Taylor Nornes, put the slideshow together.
Lastly, the players received their badminton varsity letters and awards to top off their successful season.