Dons win 2nd-straight CIF title (link to photos)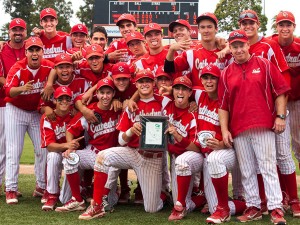 Photo Credit: Bob Davis
June 5, 2012 • Billy Slane, Sports Editor
Filed under Sports, Top Stories
For the second year in a row, the Cathedral Catholic boys baseball team made it to the CIF finals, and for the second year in a row they faced El Capitan High School in Tony Gwynn Stadium at San Diego State University. In last year's championship game, the Dons came away with a 3-2 victory to bring home the CIF title. This year, with the help of a fine pitching performance from junior Stephen Gonsalves, the Dons once again brought home the CIF crown by defeating the Vaqueros 3-1.

Like the Dons' season, the championship game came down to the terrific pitching of the team. This time it was Dons' ace Stephen Gonsalves who got the start, and he did not disappoint, pitching a complete game with 8 strikeouts and allowing no earned runs. The performance was the cherry on top of a phenomenal season for the junior who ended his 2012 campaign with 79 strikeouts, allowing a batting average of just .199, and posting an outstanding ERA of 1.91.

Although the Dons are losing 7 seniors for next season, the goal for the team should still be a CIF championship. The team has a very strong contingent of juniors who look to fill stronger leadership roles next season for the underclassmen. Players like Christian Camarena, brother of Dons' alum Daniel Camarena who was drafted by the Yankee's last year, along with others hope to keep this streak of CIF championships alive next year.

The Dons end their 2012 season with an overall record of 30-5 and ranked 6th in the state. The Dons also ended their year ranked 35th in the nation by MaxPreps.com's rankings. The team's strength throughout the season was always the strength of their starting pitchers. As a group, the Dons allowed a batting average of below .200, a total of 277 strikeouts and an ERA 1.34.

This CIF championship is a record 13th for Cathedral Catholic this school year. This Dons' athletic season has been a very special one for the school that included its first CIF champion basketball team and even made a run in the state tournament. The athletes who contributed to these CIF crowns this past year have set a new bar for a school that already has dominated the San Diego section for years.
PHOTOS: LINK