Nativity Prep – School of Hope for Kids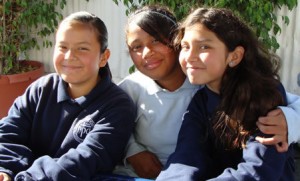 Lunchtime trio at N.P.A.
July 29, 2010 • Akiko Bremar, Outgoing Assistant Editor
Filed under Student Life
Imagine a one bedroom house with five or more people living together, no breakfast, lunches hardly ever, and just barely enough dinner for an entire family to share. Warm showers are privileges, and there are only so many sets of clothes that siblings have to rotate around each day.
Imagine having no grass on the small patch you call your "front lawn" because there was never any water to help it grow. Imagine walking outside in the morning, knowing that there was a gang fight around the corner last night.
Imagine all of this, and then imagine if this was the life you lived every day.
For many students attending Cathedral, the above scenario is hard to imagine. We might not all live in mansions, but we certainly don't have to cram into a room with three or more family members.
We have more than enough food every day; we always have leftovers, and sometimes we even have so much food that we wastefully throw some away.
Some people, especially those living at or below the poverty line, are lucky if they have food for breakfast once a month.
These families do not have many of the things that we take for granted. In a world of seeming despair, there are a few places of hope for the families and kids.
One example lies in a single white building that holds a school for kids in 6th through 8th grade.
Located in Logan Heights, Nativity Prep Academy is a school for underprivileged kids living in the inner city. It is not only a school that teaches students in 6th, 7th, and 8th grade, but it is also a safe haven for security, support, and opportunity.
Outside the fences of the school, there are empty lots, broken sidewalks, and graffiti-covered walls. Because Logan Heights has one of the highest crime rates in San Diego, there are several gangs in the area as well.
However, inside the fences, there is a simple white building and an asphalt playground.
There are teachers, school supplies, and books. There are basketball hoops, four-square boxes, and P.E. uniforms.
There are things that many kids take for granted everyday, things that students at Nativity Prep used to dream about having.
Sixty students apply each year, and only twenty of them are accepted. The students who are accepted have annual family incomes of $20,000 or less. Students attend school from 7:00 a.m. to 6:00 p.m. and are given an education, breakfast and lunch, support, and safety.
Nativity Prep Academy is a God-send for the students who attend the school. It provides everything for its students including an education, food, transportation, graduate support, and more. The students at this school are given opportunities that they would not have if they were at home or at another school.