Shakespeare given 'full effect' in annual competition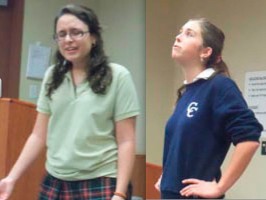 Photo Credit: Mr. McMurtry
Winner Bianca Hernandez and runner-up Bridget Sanker
January 31, 2011 • Sarah Miller, Opinions Editor
Filed under Student Life, Top Stories
Cathedral Catholic's annual Shakespeare Competition was held Wednesday January 19th in the Lecture Hall during class period gold five. In the past, the competition has accommodated up to 22 participants, but this year, only four students chose to be part of this campus tradition for drama enthusiasts.
Despite the low number of participants, talent was abundant. First place was awarded to senior Bianca Hernandez, and the runner-up was freshman Bridget Sanker.
Hernandez performed a monologue as a lovesick and anguished Juliet from Act II of Romeo and Juliet. Sanker chose a popular A Midsummer Night's Dream monologue commonly referred to as "Helena's Revenge," found in Act III of the play.
Sanker said, "I imagined myself as [Helena] and how she would talk, move, stand, and feel. I researched character and also practiced a lot."
In order to prepare, Hernandez studied Juliet's character and practiced in front of the mirror and family and friends.  She said that she has not had any major acting experience prior to participating in the Shakespeare competition. However, she was involved in speech at her old high school freshman through junior year prior to transferring to CCHS the beginning of this, her senior year.
"Speech is similar to the Shakespeare Competition in that students memorize pieces and compete, but there is more freedom of choice in speech. The Shakespeare Competition is restricted to monologues and sonnets, but in speech there are a variety of categories, including all drama and two-person recitations," said Hernandez.
On the other hand, Sanker was the lead female role in Seussical at her middle school and has participated in junior theater camps. "Over the summer, I saw a Midsummer's Night Dream, and I was really impressed by the emotion of the characters. That type of emotion was definitely something I want to include in my performance," said Sanker.
English 1A and 4 teacher Mr. Jeff McMurtry and drama teacher Miss Katie Wilson work together as judges for the CCHS Shakespeare Competition. Mr. McMurtry said the competition is based on essentially three things:
•How well the participant understands the piece he or she is reciting,
•How he or she communicates the meaning of the piece to the audience, and
•Artistic skill by which the meaning of the piece is conveyed.
The monologue must be memorized, so that participants should also have ease in performing their pieces.
"One of the most important aspects of choosing a monologue is finding the piece that fits the personality of the actor. Juliet is a very introspective, pensive teenage girl; she really does not come into her own until about Act IV of the play. Bianca is very [expressive] and animated, and I could tell she was trying to break out of Juliet's shy mold. I definitely think she could take on a bigger character. Using and capturing the actor's energy with the monologue is essential," said Mr. McMurtry.
While the sonnets are not acted out, some movement is allowed and sometimes necessary in order to convey the emotion of the piece. When reciting the sonnet, actors must use dramatic interpretation in order to impart a thought or a feeling.
Hernandez said she decided to pick a sonnet she already knew and loved – and one of her favorite sonnets is the one she recited, Sonnet 29, with the other being Sonnet 14.
"Bianca's reading of Sonnet 29 was the best Miss Wilson or I have heard from a student in a long time," said Mr. McMurtry.
Sanker said, "I chose Sonnet 15 because it deals with growing up, something I can relate to; I don't want to grow up and go to college. I did look at other sonnets, and I saw that they mostly dealt with love and death. I felt that I really didn't have enough experience with either to fully convey the meaning of the sonnet, so I decided to do Sonnet 15."
The English Speaking Union annually sponsors the Shakespeare Competition nationwide. Participants compete in regional events, and the winners of local competitions move on to the national competition in New York City. This year, fifty-eight ESU branches will be hosting Shakespeare competitions; the San Diego competition will be held on March 6th at the La Jolla Playhouse. On the ESU website, prospective participants can find competition guidelines as well as popular monologues performed.
Mr. McMurtry recommended getting in touch with teachers in order to choose the right role and look at sonnets.
"Don't be nervous and don't slack off. Actors should be sure of themselves. It's fun to forget everything and just become the character. I used criticism I received from others, and I will definitely use criticism I received after this year's competition for next year," said Sanker.
In order to prepare for the upcoming local competition, Hernandez will choose a different monologue from a stronger female character and will work with Miss Wilson in order to refine her acting skills.
"I believe this competition reinforces the idea that Shakespeare's works were meant to be performed and that sometimes you really don't get the full effect if they are just read," said Sanker.