Sydney, Australia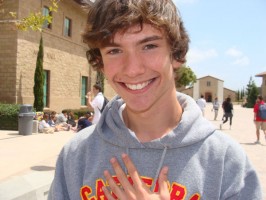 Cathedral Junior Jay Mullins
April 14, 2011 • Nina Holtz, Special Sections Editor
Filed under CC Students Around The World, Student Life
Junior Jay Mullins shyly keeps his head down as he strides in front of the USDHS library on the morning of August 23, 2010, the first day of school.
"As I am walking past the library I looked up, and there are like two thousand kids standing in front of me.  Looking out over the sea of people, I was really overwhelmed," said Mullins.
Facing the Cathedral crowd of hundreds of unfamiliar faces was a harsh adjustment for Jay, who spent the last couple of years at boarding school in Switzerland with only 180 students.
The bell rings, Mullins holds his paper schedule, pathetically confused at the obscure terminology like "DH-204" and without a clue of what direction to take.  He attempts to ask a few frantic underclassmen for help, and then he embarks to class, and into the unknown.
"The things that stick with me in my mind the most are those experiences of being in a zone that is extremely uncomfortable to me. It's taking your life, and making it interesting," said junior transfer student, a native of Sydney, Australia who has spent his life traveling the globe from Switzerland to Singapore.
Originally residing in Sydney for his first ten years, Mullins moved to a quaint town in southern France at age 11 and lived there for two years and then spent the next three years at a boarding school in Switzerland before transferring to CCHS. Jay attributes his travels to his father's job for a medical company – his father's promotions have forced the family to move across the world, this time to San Diego.
Following his first class, a little small talk during break reveals Jay's Australian accent, and attracts crowds.
"Eventually, there were like fifty girls talking to me, it was absolutely fantastic," joked Mullins. "They were asking me to say, "Can you put another shrimp on the Barbie?" and "A dingo ate my baby."
Coming from incredibly internationally diverse communities where accents are the norm, the junior humbly admits that he somewhat enjoys the attention his "Australian-ness" draws from Americans. "I guess I am sort of a novelty to a lot of people, so it's kind of exciting," said Jay.
After studying rigorously from eight to five during his school days in Southern France, skiing three days a week in Switzerland, witnessing a robbery in Egypt (facilitated by a camel), and playing a concert for an all-girls school in England, Mullins holds the wisdom of the world to reveal.
In addition to knowing that Spain and France throw the best parties and that Turkey and Greece are the best relaxation destinations, Jay Mullins offers up a more meaningful lesson to his peers: carpe diem.
"My philosophy is take life by the [horns]," said Mullins.  "Enjoy it because you don't know how long you are going to be here, and take every opportunity you can. You have to create your own life, and go out, make memories."
While comparing America with other countries, a prominent difference Jay noted was the amount of people who freely explore beyond their own country, "I find that peoples' mentality toward adventure here is a little different. For example, a lot of people here will go straight to college after high school, and it's a normal thing, but in Australia or other countries like that, you take a year or two off to travel, and a lot of people here just don't consider that," said Mullins.
Understanding how difficult it is to travel, whether concerning the emotional stress of it, or the financial demands, Mullins still enthusiastically encourages everyone to get to know the individuals within their local communities.  He remembers the diversity he observed in Venice Beach, "You don't necessarily need to leave the country; you just need to break out of your own safety bubble, just go out and talk to someone who is different from you – people who have different views, different religions, different cultures."
" It wasn't really being in the country, it was interacting with the people that made the difference," said Mullins.
The 16 year-old feels his experiences with foreign cultures has shaped him to be a very "laid-back" person who is not distressed by insignificant statistics like grades, but rather focuses his energy on creating sincere connections with others and living life to the fullest.
"You can go to school, you can get great grades, but in the end, what you will focus on when you're older is not necessarily the grade you got in chemistry, it's what you did in that time and how you lived. And that's how I try to live," said Jay.